What is a latch?
Latches are mechanical components or fasteners to hold moving parts together temporarily. Latches offer quick access to the interior contents while at the same time securing and locking the container closed either during shipping or storage.
Latches keep all sorts of cabinets, hatches, crates, cases, and enclosures closed. One of the most reliable types of latches is the rotary cam latch, also known as a twist latch. The Twist latch has proven to be one of the more robust latches and has been used extensively in the ATA/Road case market for over 50 years.
What is a Twist Catch?
A twist or butterfly latch uses rotating cams and levers to engage keeper plates and hold a case or container closed. The twist latch is typically mounted to the stationary portion of the case, and a matching keeper is mounted to the lid of the door.
When the door is closed, the twist catch can lock the door shut by rotating the wing (butterfly) by hand and drawing the keeper and latch together, creating a secure connection.
At TCH, we have designed our twist latches in different styles of twist latches for different types of cases.
Small and miniature latches for cases with shallow profiles.

Medium latches for cases that can be carried by hand

Large latches for heavy-duty cases.

Twsit latches with external coil springs compensate for upto 5/32" [4mm] of miss-alignment between the latch and keeper

An optional "Kick-out" spring to hold the latch blade away from the keeper when un-latched. Making opening and closing easier

Some styles have security features like padlock loops, keys, and holes in the butterfly, allowing for zip ties or security tags.
Latches are used to shut cabinet doors, ATA cases, machine tools, trucks, construction equipment, and automotive applications.
Different types of Twist Catch:
Medium Twist Catch
Spring loaded compensates automatically up to 0.16" [4mm] for medium catches

180-degree turn lock & unlock.

Can also be tool opened if the butterfly blade is damaged or lost.

Staked to prevent the latch from falling open when disengaged from the strike/keeper.

New wing design for easier operation.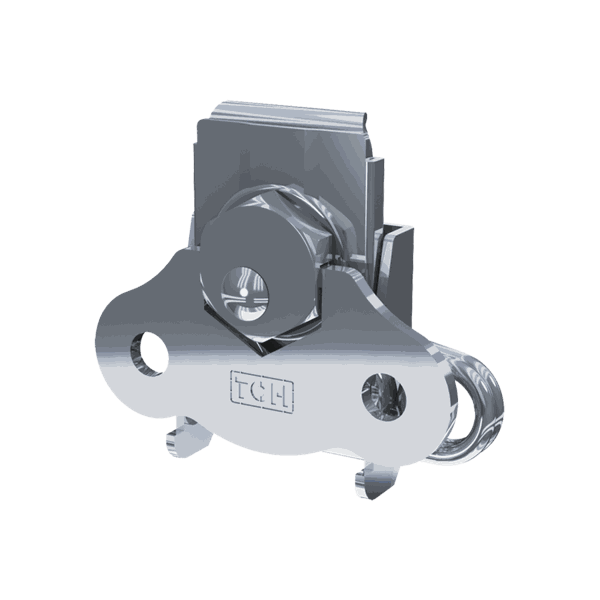 Material:
Latches are made of high-grade steel with zinc plated finish. Stainless steel versions are available on select models in a particular order.
Features:
Strong and durable in most different indoor and outdoor environments.

Easy to install.

Easy to use.

Versatile options.