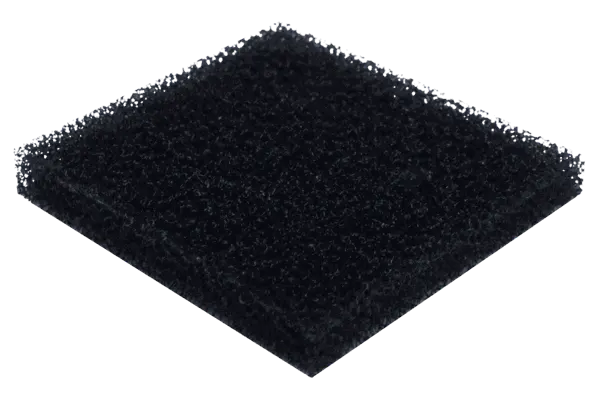 What is Foam?
Foam is formed by trapping gas bubbles in a liquid or solid. Solid foams are open or closed cells.
In open cells, pores connect to each other and are great insulators. Conversely, closed-cell foams have compressive strength and are denser than empty cells.
Acoustic Foam
One type of foam is Acoustic Foam. It is an open-celled lightweight material made from polyurethane, polyether, polyester, or a combination of those materials. It can be used for air and water filtering. The acoustic foam is used for air intakes, electronic cabinets, extractor units, aquariums, vehicle air intakes, HVAC systems, and lining speakers' front and grills.
It captures and retains dust, debris, and other particles while maintaining airflow and sound transmission. Acoustic foam has a higher dirt retention level than paper filters.
Open cell structure is formed during the reticulation process by filling the foam with oxygen and hydrogen with a controlling explosion, which blows the cells out of the foam. Open cell structure is suitable for filtering material.
Its cell size differs from PPI 10 to PPI 150 w, which refers to pores per inch. Porosity is essential in determining the best type of filter foam for an application. This will be chosen based on the desired ease of filtration and speed of airflow.
TCH offers 1/4" thick polyurethane Acoustic Foam. It is 20 PPI and dark charcoal. Acoustic foam can be cut in different sizes according to your requirements by contacting us for custom sizes.
The benefit of Acoustic Foam:
Easy To Install & Replace
It has quick, easy installation methods.
Long Lifespan
Provides efficient water flow with less clogging.
Resizable Cutting
It can be cut in different sizes to be fitted to filters.
 Easy To Clean
They are washable.
Cost Saving
Many similar properties but 40% cost saving according to the reticulated foam material.
Light Weight
Where to be applied?
To have the best performance, it is essential to specify the location of the acoustic foam.
Direction
The direction of airflow or water flow is essential not to put pressure on the air handler; it may cause damage.
TCHprovides a full range of foam, from simple foam inserts to complex designs executed by various machinery. Our knowledgeable engineers can help you throughout the process, from concept to cost and material consideration.