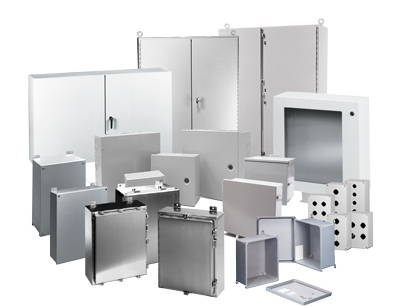 Picture is provided by Hammond manufactoring.
What is Din Rail?
Din rail is a metal rail which has simple mechanism but play a vital role in holding electrical devices and equipment together inside an electrical enclosure.
DIN rails are designed for securely attaching electrical and industrial control products. One of their applications is that they are placed inside an enclosure to mount circuit breakers and other electrical hardware.
DIN rails allow you to choose from a wide selection of components and manufacturers to install these pieces of hardware into the panels, regardless of project size or geolocation. With this feature you have creativity and flexibility to design customized electrical solutions.
What are the benefits of Din Rail:
Time saving: Snap or slide on the rail rather than mounting individual components on the body of the enclosure.

Space optimization: They are good for limited space even in the tightest spaces, by reducing the amount of mounting hardware needed.

Cost effective: Its pricing itself and its tight space will reduce overall wiring.

Organized layout: by providing a centralized location, simplify wiring design.

Easy installation
Types of Din Rail:
One of the most common and popular type f Din Rail is Top Hat Rail. They are considered as an industry standard and the most common type of din rail.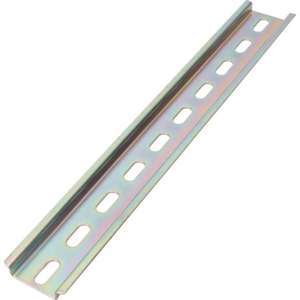 Top Hat Rail:
They are also known as TS35 and it is very commonly used for mounting a vast range of of electrical industrial control products and components.
The cross section of this Din Rail is like a deep hat with a width of 35mm wide from edge to edge, the name refers to this fact. Channel depth of T35 is available in both 7.5 & 15 mm.
For daily component mounting activity like power supply and circuit breakers, 7.5 mm is more practical.
The other types of Din Rail:
C Rails: Its shape is look like a letter C with a wide of 32 mm from edge to edge. It is used for larger and heavier items such as power supplies and transformers, because of the excellent wall support it offers.
G Rails: These 32mm rails, also called TS-32 rails, feature an asymmetrical letter "G" shape because one side has a deeper recessed. For heavy duty component, it offers additional support.
Mini Top Hat Rails:TS15 is a miniature version of the TS35 and smallest size of Din Rail. This type of Din Rail is used when space is a top priority. Edge-to-edge measurement of only 15mm and the standard channel depth of 5.5mm.
What is a DIN-Rail plastic enclosure?
DIN-rail plastic enclosures house multiple types of populated printed circuit boards (PCBs) that serve various kinds of applications. One of the most popular is the single-board computers (i.e., Raspberry Pi, Arduino, and Beaglebone)
Benefits
Cost effective

Could be an insulator, prevent problems that are caused by heat buildup or electric shocks

Aesthetic appearance
Sizes & features
Embedded Enclosures come in an array of sizes, orientations, colors, and styles. Typical vertical sizes (how the PCB sits in the enclosure) begin at 7.5mm – and move right up to 45mm, while the horizontal dimensions start with 1M (18mm width) up to 15M (270mm).
Most vendors offer different features and accessories. Some of these features have pre-loaded terminal blocks, led holes, vents, removable covers and sides, clear plastic faceplates, and other profiles for multiple board applications.
TCH carries a select line of Italtronic DIN-Rail enclosures, including:
Railbox Enclosure:
RAILBOX VERTICAL E MULTILEVEL is a unique and innovative enclosure designed to give a product a new aesthetic and highly technological look.
RAILBOX VERTICAL E MULTILEVEL is suitable for electronic equipment on DIN rail (EN 60715).
The enclosure is mounted vertically, thus saving space.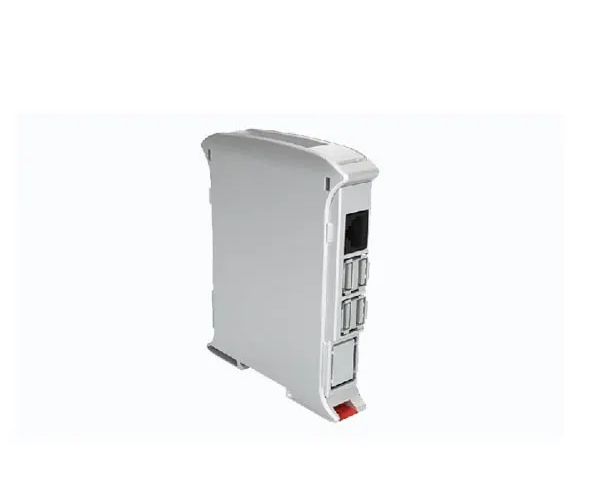 Modulbox Enclosure:
This modular enclosure can be fastened to DIN (EN 60715) rail and can be provided with several terminal covers and various front panels.
There are several versions of this modular enclosure:
Type A (like the previous Modulbox product and bearing the same compatibility with the pcbs), type B (with one side higher to leave more space for larger electronic components) and type C (with both sides higher to have more space for the electronic components).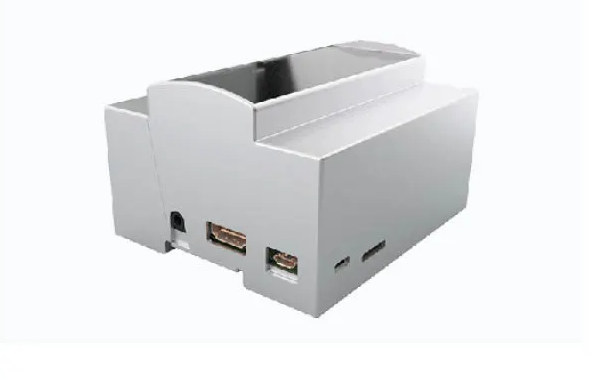 ---
Assembly - Disassembly instructions Railbox Blind