What is the best solution for carrying a heavy load?
Flight cases, also known as ATA cases and road cases, are containers built to protect equipment that frequently moves around.
It is a shipping container specifically built to protect musical instrument, motion picture equipment, audio and lighting production equipment, properties, firearms, or other sensitive equipment when it must be frequently moved between locations by ground or air.
While flight cases are available prebuilt as a final product, many prefer to build their own. Depending on the items they transport, many need specific customizations for their requirements. TCHoffers all the case hardware you will need to fulfill your project's requirements. Whether it's for flight cases or work boxes, quality is one of our top priorities.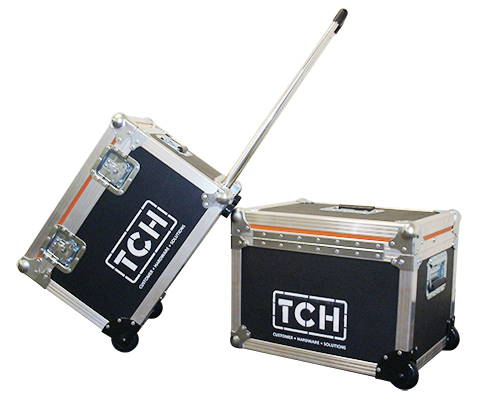 Important Component of ATA Case
A handle is used as an attachment to manipulate or grip an object or machinery. Since flight cases travel often, handles provide an easy way to carry and move them around. TCHoffers different variety of handles in style and size. One of the most popular ones is recessed extension handles because of their sturdiness.
What is Recessed Extension Handle?
Grip your cases in comfort with our user-friendly heavy duty handles for any application. Recessed extension handles are typically used to medium or large cases and are designed for heavy load cases. When paired with a set of our corner mounted casters makes transporting your case and contents a breeze. They are made of steel and molded plastic with a push button lock that holds the handle in the closed or open position. They are ideal for air travel cases.
Benefits:
  Quick release mechanism to release the handle for extension

  Extends to different positions

  Conserves space

  Safe for the workplace

  Durable

  Ergonomic
Three-Stage Recessed Extension Handle With Quick Release
More cost effective

Able to move heavy loads in a case

Extends to three positions

Handle is built in to the inside the case

In the closed position, the handle takes up less space
Recessed extension handles can help operators undertake tasks easily and with a lesser risk of injury. TCH offers a wide range of them, to finding a best match of your requirement, you can reach to our specialists.