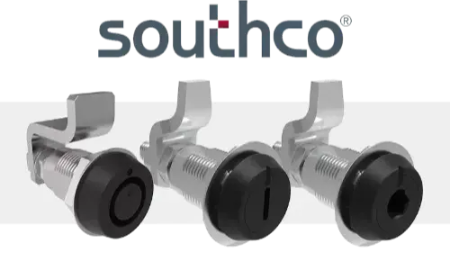 Southco's E3 VISE ACTION® compression latch series administers quick, secure closure in a single motion and is ideal for applications where sealing, quality, and vibration are crucial. The VISE ACTION® technology provides a mechanical advantage, supporting easy access through a key or tool while simultaneously ensuring a snug, vibration-resistant closure. In a single half-turn motion, the cam and shaft compress and pull the door tightly against the frame into the locked position, sealing out dust and water. In gasketed applications, the compression action provides consistent 6.4 mm (.25") pull-up for environmental sealing and reduces noise and rattling caused by vibration. Additionally, the over-center latching placement prevents accidental opening causes by shock or vibration.
Multiple size, material, and access configuration options suit various applications and industry requirements, allowing the latch to meet the needs of unique applications. A large selection of head styles, such as t-handle and key or tool operated styles, provide solutions for varying security requirements. At the same time, multiple grip dimension options help create the perfect fit. Three basic housing styles are also available to meet door configuration and mounting requirements. The series' high-durable materials and finishes excellently resist corrosion and match diverse style and functionality requirements. Furthermore, the latch solutions support a wide range of load configurations.
Through its VISE ACTION® design, the E3 Compression Latch achieves tight, water, dust and vibration resistant compression with minimal manual torque. The series delivers quality, security, and consistency through a user-friendly model and offers various product configurations to meet the unique needs and challenges of each application.  
Key Points
Six body styles accommodate various door/panel thicknesses, grip ranges, actuator styles, and interior protrusion

Easy-to-grip knob and handle-actuated styles provide quick, simple access

More than 45 key-actuated and tool-actuated styles restrict access and discourage vandalism

Low-profile and flush-mount styles minimize protrusion above panel

Available in fixed-grip and adjustable grip versions

Many models suitable for NEMA 4 and IP-65 applications

Single-hole mounting styles provide for convenient installation

Compact version with shortened housing for limited space applications
Available Options
Available in a range of materials and finishes, including stainless steel, chrome-plated, or black powder-coated

Assembled versions facilitate quick and easy installation; unassembled versions are available for mounting in thicker doors and other restricted access situations

Models available to accommodate 2- and 3-point compression latching

Lightweight, hard anodized aluminum version complies with EN45545

Padlockable T-handle option combines enhanced security with ergonomics

Sealed version resists high-temperature, high-pressure power washing and chemical cleaning and complies with DIN EN1672-2 and IP69K

Light reflective, red winged indicator option allows latch open status to be identified from a minimum of five meters
Standards & Specifications
Appropriately gasketed models satisfy NEMA 4 and IP-65 applications

Models available for EMI/RFI sealing
Southco E3 Vise Action Compression Latch Series
Southco Vise Action Compression Latch - E3-19-25
Source: https://southco.com/en_us_int/latches/compression-latches/emvise-actionemreg-latchesp/e3-vise-action-compression-latches